Why hydrogen?
As well as being an energy region, Stavanger's innovative maritime industry is a hydrogen-driving-force. Stavanger has always been ruled by the sea, and maritime routes were channels for trade and external influence. Given our shipping industry, cutting emission at sea is often center of attention – and hydrogen and green ammonia are rising stars.
Stavanger is also an energy-dense region with access to both natural gas and biogas and the full value chain for CO₂ capture and disposal. We also have a surplus of hydropower, perfect for green hydrogen projects. This must be the recipe for a hydrogen adventure!
MF Hydra – the world's first hydrogen ferry
Here you can see the world's first ferry powered by liquid hydrogen! MF Hydra is 82.4 meters long with the ability to carry up to 300 passengers and 80 cars.
The ground-breaking project demonstrates the viability of hydrogen as a fuel for passenger ships and is a big step in the direction of an emission-free fleet. The project is a direct result of Stavanger's efforts to decarbonize our large shipping and ferry sector.
The EU-funded ColdSpark Project
SEID is one of an increasing number of local technology companies developing new green technology. Seid is a Norse term for knowledge and technology that lies on the borderland between religion and magic.
And their new technology is indeed quite magical: A new generation of cold plasma technology, which requires significantly less energy than existing hydrogen-production methods, converts natural gas into hydrogen and carbon particles in solid form. This method avoids carbon in gas form that contributes to the greenhouse effect. Solid carbon can be utilised in several industries, including car tires, rubber products, soil improvement, and even batteries.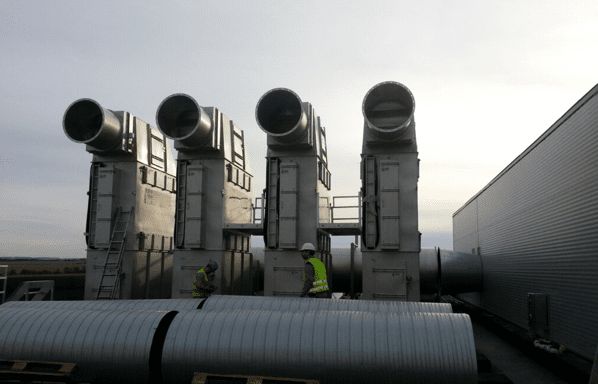 Recently, the very ambitious project also got funding from Horizon Europe. Read more about the project here.
First gas turbine powered by pure hydrogen
Getting funding by Equinor, University of Stavanger are working broadly on hydrogen. Recently, their research gave groundbreaking results.
A research team, led by Professor Mohsen Assadi, have been working on developing a method for using pure hydrogen as fuel in gas turbines. The goal is to produce electricity with zero CO2 emissions.
An important milestone was reached in 2022: They started running a micro gas plant on 100 percent hydrogen. The research team will now take a closer look at the limitations of the gas plant and find out how they can increase the capacity.
Green ammonia in Sauda
To carbonize our shipping sector work is also being done on green ammonia. Hy2gen plans to produce green ammonia as a marine fuel in the Norwegian municipality of Sauda.
The initial electrolyzer capacity of the project is 240 megawatts, which will allow it to produce 600 metric tonnes of green ammonia per day, with the possibility of significantly increasing production capacity in the future.
When they looked for a location for their plant in Norway, Sauda quickly emerged as the best option. The accessibility of abundant green energy from hydropower, a good harbor for exports, an attractive production site, and a long regional industrial history made the choice easy.
In addition, they have mentioned the positive reception of the local authorities and businesses as a key reason.
Horisont Energi selected for IPCEI
EU's first world-scale clean ammonia plant, Horisont Energi's Barents Blue project, is to participate in the Important Projects of Common European Interest (IPCEI) Hydrogen.
The selection is a testimony to the potential and innovative nature of the Barents Blue project.
The Sandnes-based company will transform natural and renewable gases, water, and renewable energy into cost-leading clean ammonia and hydrogen. The CO2 will be transported and stored
This a flagship project in Norway – and Europe.
New regional member in Hydrogen Europe
In 2022 the Stavanger Region European Office joined the regional pillar in Hydrogen Europe. We are excited to dig deeper into the hydrogen-sphere in 2023!