Under årets Nordic Edge Expo arrangerte Rogaland fylkeskommune et webinar om bruken av digital tvillingteknologi i utarbeidelsen av den nye bussveien. SrE bidro med europeiske medarrangører til programmet, gjennom POLIS nettverk, Open Agile and Smart Cities og Smart Cities Marketplace.
TwinCity: Digital Twin in Urban Mobility Planning
Hvordan kan digitale tvillinger hjelpe byer og regioner i planleggingen av morgendagens mobilitetsløsninger? Og hvordan kan ny teknologi bidra til det grønne skiftet fra fossilbasert transport til klimanøytral mobilitet? Dette var noen av spørsmålene som ble diskutert under den digitale workshopen den 23. september som en del av smartbykonferansen Nordic Edge Expo. Det var hele 149 påmeldte.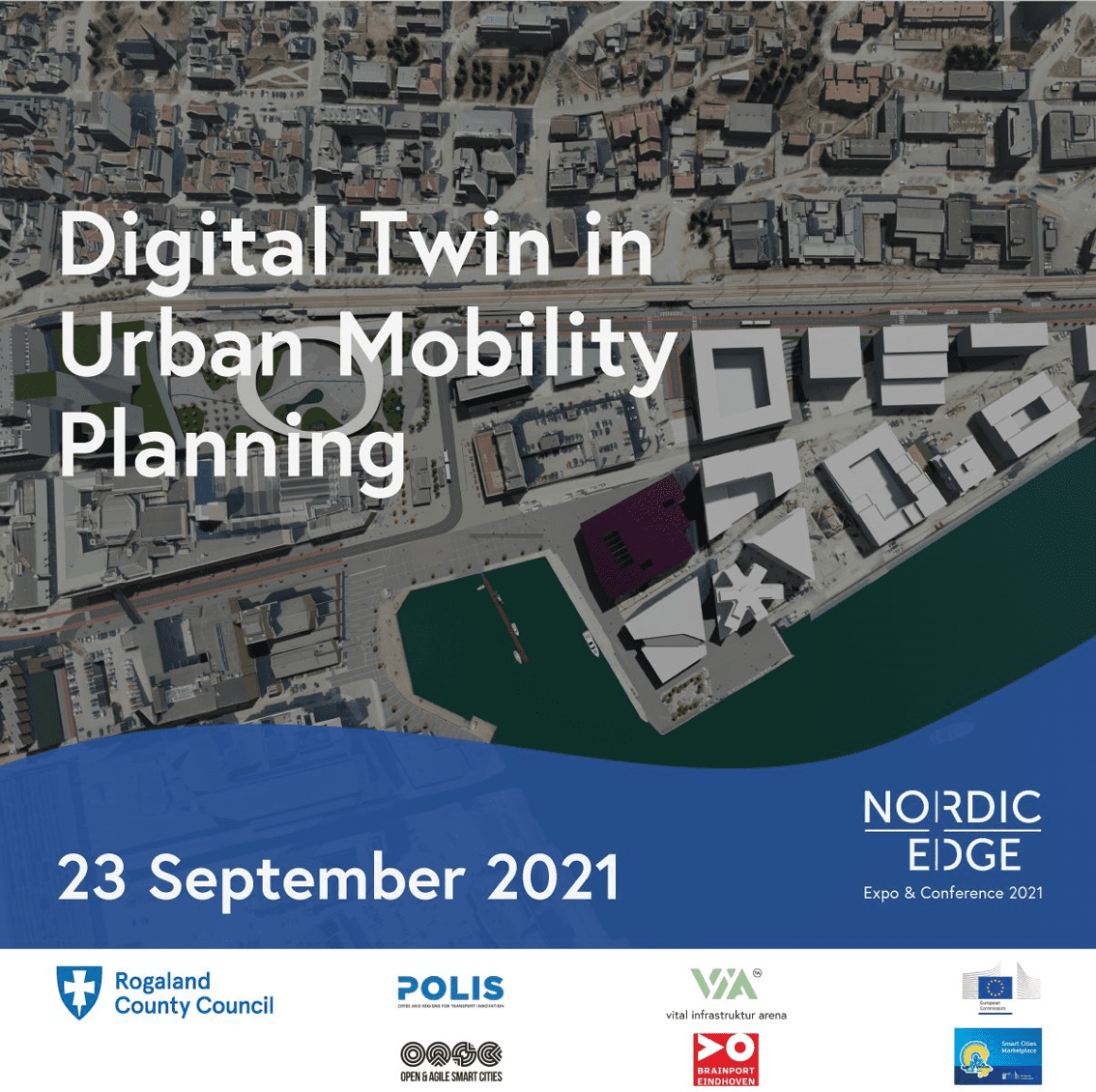 Stor interesse for bussveien
Workshopen startet med en keynote speech fra Eddy Hartog, Head of Unit, Technologies for Smart Communities, DG Connect, Europakommisjonen, som fortalte om EUs prioriteringer når det gjelder implementeringen av digitale tvillinger. Deretter fulgte en presentasjon fra næringssjef i Rogaland fylkeskommune, Mette Fossan, som fortalte om fylkets planer og ambisjoner når det gjelder klimanøytral mobilitet i Rogaland, og hvorfor bussveien-prosjektet er en viktig brikke i dette arbeidet.


Prosjektkoordinator for bussveien-prosjektet, Tor Aanonsen, presenterte den digitale tvillingen og den tekniske løsningen som ligger bak. Det var stor interesse for bussveien-prosjektet blant de 72 deltakerne i workshopen. Publikum ble deretter delt inn i fire arbeidsgrupper, der hver arbeidsgruppe tok for seg et spesifikt tema knyttet til bruken av digitale tvillinger innen urban mobilitet. EU-rådgiver i næringsseksjonen i Rogaland fylkeskommune var moderator for arrangementet.
Europeiske medarrangører med bred erfaring
De fire arbeidsgruppene ble ledet av Giacomo Lozzi, seniorrådgiver i det europeiske transportnettverket POLIS, Lucija Rakocevic, Research and Development Manager fra Thi!nk E og Europakommisjonens Smart Cities Marketplace, Cornelia Dinca, prosjektleder fra Open Agile and Smart Cities (OASC), og daglig leder Helen Roth fra den regionale transportklyngen VIA – Vital Infrastructure Arena.
Working group 1: POLIS – the use of Digital Twin in Sustainable Urban Logistics
Working group 2: Open Agile and Smart Cities – Challenges related to data-sharing and standards
Working group 3: Smart Cities Marketplace – Best practices and lessons learned from European cities
Working group 4: VIA – How can digital twins contribute to safety in urban underground tunneling systems?