New European Bauhaus (NEB) tar sikte på å forbedre offentlige rom og bygninger ved å gjøre dem mer bærekraftige, estetiske og inkluderende. Under European Week of Regions and Cities (EWRC) var Stavangerregionens Europakontor med å arrangere workshopen "Sustainable, inclusive and beautiful urban areas – how can the New European Bauhaus boost the holistic green transition?"

Workshopen, som var et samarbeid mellom Stavangerregionens Europakontor og fem andre europeiske regionskontor i Brussel, løftet fram konkrete eksempler fra regionene. Her sto innbyggerne sentralt, men også ungdommer, næringslivsaktører, politikere og forskere fikk være med å utforske hvordan vi kan utvikle byene våre i de kommende årene:

Kick off Anthony van de Ven, Brainport Eindhoven EU office
Young people perspectives from European cities: How do you want your city to be like in the future?
How does the Bauhaus concept translate into today's challenges? How can we rethink and appreciate the urban building stock? Daniela Zupan, Junior Professor , Bauhaus University of Weimar
Delivery phase of the NEB and link with the Climate Neutral Cities Mission and other Commission's targets. Vera Winthagen, European Commission Joint Research Center
Video testimonial by the City of Eindhoven Yasin Torunoglu Deputy Mayor of the City of Eindhoven
How to develop suburban areas in sustainable, beautiful and inclusive way? Developing the city's suburban vision and engaging stakeholders in the process. Timo Hintsanen, Urban planning director, City of Turku
Video testimonial by the City of Stavanger Kari Nessa Nordtun, Mayor of the City of Stavanger
How to build socially sustainable living spaces that reduce our carbon footprint and improve quality of life for its residents? How can architecture help prevent loneliness? The Example of Vindmøllebakken, Stavanger. Randi H. Augenstein, Senior Architect, Helen & Hard
Video testimonial by the City of Groningen: Sunny Selwerd : co-designing regeneration of a city district. Koen Schuiling,Mayor of the City of Groningen
Video testimonial by the City of Copenhagen: Bloxhub Innovation hub for future cities
Conclusions

Kvinnesterke innslag fra Rogaland
Under workshopen fortalte Stavangerordfører Kari Nessa Nordtun om kommunens bærekraftsprosjekter med NEB-relevans. Randi B. Augenstein fra arkitektfirmaet Helen & Hard delte erfaringer fra Vindmøllebakken.

"Vi må begynne å bygge boliger som er bedre tilpasset behovene til mennesker og deres liv".

Randi H. Augenstein, Helen & Hard Arkitekter
I tillegg fikk vi høre fra en lokal ungdom hva hun mener må til for å styrke livskvaliteten i urbane strøk i regionen.
Grønne områder var det viktigste for deltakerne på workshopen
Under workshopen ble deltakerne bedt om å sende inn stikkord som beskriver hva de ønsker at NEB skal bidra til i deres by eller nabolag. Wordclouden som utviklet seg, viste at grønne områder, samt natur og estetikk var gjennomgående svar fra deltakerne. Dette verdsatte deltakerne i en NEB-kontekst: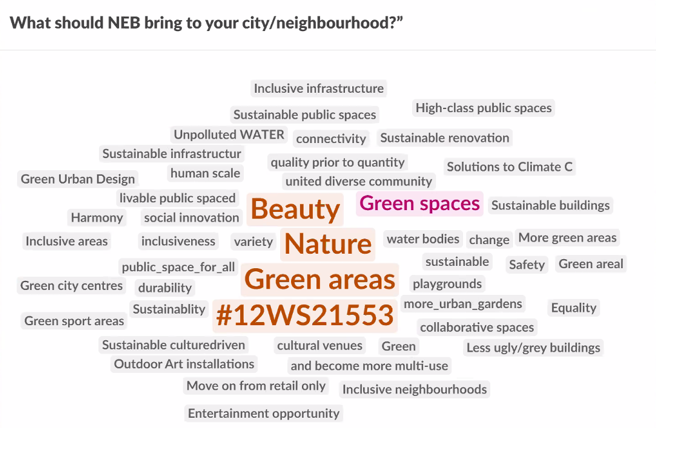 EU-kommisjonen kom i september med ny informasjon om «New European Bauhaus», inkludert beskrivelser av rammeverket, kjerneprinsippene og sentrale tiltak som vil drive initiativet fremover. Det kan du lese mer om her.